The rise of the special interest groups, or the voluntary, non-governmental organizations, as a force to reckon with was felt in 2014. Some of the sustainability campaigns of 2014 prove this. Business can no longer ignore social and environmental concerns. Public awareness on climate change and business sustainability issues has increased over the years. Information continues to spread faster in an era dominated by social media. In 2014, corporate has shown positive signals by drawing out new strategies to become more responsible.
Editor-marketspace | editor@thinktosustain.com
---
This article titled "Top 10 sustainability campaigns of 2014" was written by Frances Buckingham, for theguardian.com on Wednesday 24th December 2014 07.00 UTC
Greenpeace: Lego's partnership with Shell
This Greenpeace campaign gets top marks for recognising the creative opportunities that iconic Lego brand offered for engaging the public. While the Everything is NOT Awesome video was the most viewed in Greenpeace's history, the images of Lego characters staging a series of protests outside Shell garages and international landmarks kept interest alive on social media. The online campaign was supported by a child-led protest outside Shell's HQ highlighting the emotional link between climate change and future generations.
Lego announced in October that it would not renew its 50-year partnership with Shell. Possibly one of the most high-profile campaigns of all time, not everyone was convinced by the approach, believing it too simplistic and failing to acknowledge how entrenched oil is in society (not least as a raw material for Lego bricks).
The Pacific Climate Warriors (350.org): Canoes v Coal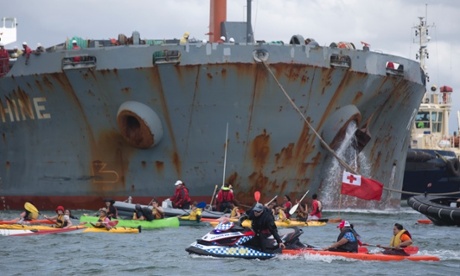 The David versus Goliath campaign of the year. In October, a group of climate warriors from 13 Pacific Islands travelled to Australia to raise awareness of the impact of the fossil fuel industry on their homes and livelihoods. With the campaign slogan "we are not drowning, we are fighting" they used traditional handmade canoes to paddle out into the harbour of the world's largest coal handling port to stop exports for a day. The Pacific Climate Warriors then joined Australians in peaceful occupations of fossil fuel companies.
The message that the islanders are no longer content to sit and wait as the "canary in the coal mine" for climate change was made very clear. The true measure of success will be if the islands are guaranteed a future.
Oxfam America: Behind the Brands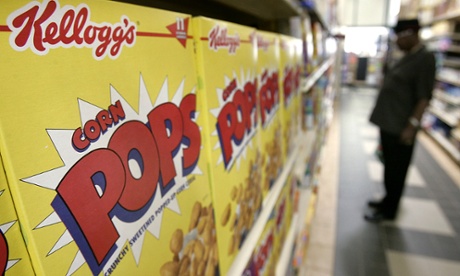 Oxfam is one of the few NGOs that seems able to balance the use of carrot and stick with major corporates, calling out bad performance while still celebrating the good.
Its Behind the Brands campaign encourages people to use its scorecard to tell the 'Big 10' food and beverage companies exactly what needs to change in their supply chains. In May, Oxfam started to highlight harmful food production practices that contribute to climate change. Kellogg and General Mills were identified as the worst offenders.
After only a few months of Oxfam applying the stick, both companies announced strengthened climate commitments. General Mills, previously ranked last on climate change policies, made some more ambitious commitments and was rewarded by a significant improvement in its climate score.
Let Toys Be Toys: ending gender labelling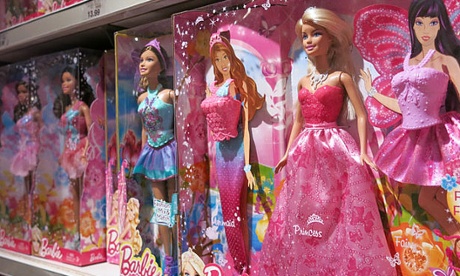 Girls like pink, boys like blue. Girls like dolls, boys like superheroes. Retailers may think these old stereotypes hold true, but parents – their target consumers – don't. A parent-led campaign, which grew out of a discussion thread on parenting site Mumsnet, brought together mums and dads frustrated by the rise of gender-based promotion and marketing to children.
After 14 retailers in the UK agreed to stop gendered marketing, the campaign was then extended to books, asking publishers and retailers to allow children to choose freely what kinds of books and stories interest them. In November, Dorling Kindersley, Chad Valley and Miles Kelly Books all confirmed that they will not be publishing new titles labelled for boys and girls. Ladybird also pledged to stop labelling books in this way as it did not want "to be seen limiting children".
Avaaz: Peoples' Climate March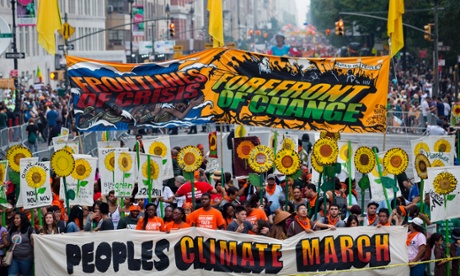 The growth in people-powered campaign movements has been one of the campaign success stories of the last decade. With more than 40 million members globally, it is relatively easy for organisations such as Avaaz to mobilise protestors. In September, hundreds of thousands of people marched in New York, London and across the world calling for 100% clean energy from policymakers and business.
A small number of progressive business leaders from IKEA, Unilever, Ben & Jerry's and NRG joined the myriad campaigning organisations. Patagonia closed its stores so that its employees could join the march alongside chief executive Rose Marcario.
Although it is difficult to assess the tangible impact of such protest events, the day was seen by many as a seminal moment in the climate change movement. It made the front page of many national newspapers, increasing pressure on politicians and decision-makers worldwide. President Obama acknowledged the occasion in his regular address: "Our citizens keep marching. We cannot pretend we do not hear them. We have to answer the call."