This article titled "Arctic sea ice delusions strike the Mail on Sunday and Telegraph" was written by Dana Nuccitelli, for theguardian.com on Monday 9th September 2013 03.26 UTC
When it comes to climate science reporting, the Mail on Sunday and Telegraph are only reliable in the sense that you can rely on them to usually get the science wrong. This weekend's Arctic sea ice articles from David Rose of the Mail and Hayley Dixon at the Telegraph unfortunately fit that pattern.
Both articles claimed that Arctic sea ice extent grew 60 percent in August 2013 as compared to August 2012. While this factoid is technically true, it's also largely irrelevant. For one thing, the annual Arctic sea ice minimum occurs in September – we're not there yet. And while this year's minimum extent will certainly be higher than last year's, that's not the least bit surprising. As University of Reading climate scientist Ed Hawkins noted last year,
"Around 80% of the ~100 scientists at the Bjerknes [Arctic climate science] conference thought that there would be MORE Arctic sea-ice in 2013, compared to 2012."
Regression toward the Mean
The reason so many climate scientists predicted more ice this year than last is quite simple. There's a principle in statistics known as "regression toward the mean," which is the phenomenon that if an extreme value of a variable is observed, the next measurement will generally be less extreme. In other words, we should not often expect to observe records in consecutive years. 2012 shattered the previous record low sea ice extent; hence 'regression towards the mean' told us that 2013 would likely have a higher minimum extent.
The amount of Arctic sea ice left at the end of the annual melt season is mainly determined by two factors – natural variability (weather patterns and ocean cycles), and human-caused global warming. The Arctic has lost 75 percent of its summer sea ice volume over the past three decades primarily due to human-caused global warming, but in any given year the weather can act to either preserve more or melt more sea ice. Last year the weather helped melt more ice, while this year the weather helped preserve more ice.
Last year I created an animated graphic called the 'Arctic Escalator' that predicted the behavior we're now seeing from the Mail on Sunday and Telegraph. Every year when the weather acts to preserve more ice than the previous year, we can rely on climate contrarians to claim that Arctic sea ice is "rebounding" or "recovering" and there's nothing to worry about. Given the likelihood that 2013 would not break the 2012 record, I anticipated that climate contrarians would claim this year as yet another "recovery" year, exactly as the Mail on Sunday and Telegraph have done.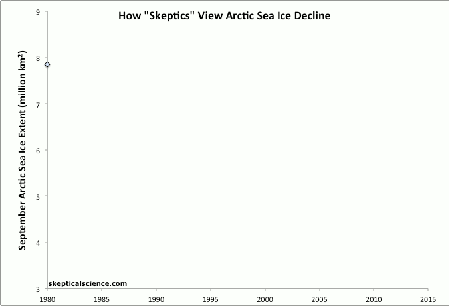 Arctic sea ice extent data, 1980–2012. Data from NSIDC.

In short, this year's higher sea ice extent is merely due to the fact that last year's minimum extent was record-shattering, and the weather was not as optimal for sea ice loss this summer. However, the long-term trend is one of rapid Arctic sea ice decline, and research has shown this is mostly due to human-caused global warming.
When Will the Arctic be Ice-Free?
Both Rose and Dixon referenced a 2007 BBC article quoting Professor Wieslaw Maslowski saying that the Arctic could be ice free in the summer of 2013. In a 2011 BBC article, he predicted ice-free Arctic seas by 2016 "plus or minus three years." Other climate scientists believe this prediction is too pessimistic, and expect the first ice-free Arctic summers by 2040.